I have a secret to tell you. I always have a love-hate relationship with puff pastry. I've always loved eating anything with puff pastry like chicken pie, curry puff, etc etc. Anything you name with puff pastry, I will definitely love it. I just love the layers and layers of flaky puff pastry that goes along with it. However, I have this strange fear to make something with puff pastry such that I dare not even buy or use it at all. It always makes me think that it's so hard to make, really.
This time for our May Mystery Box Madness, I'm going to overcome my fear of that and make something yummy with puff pastry, vanilla and strawberries. I'm crossing my fingers and toes that it will turn out well. I'm going to try Donna Hay's strawberry tarte tatins. Oohh when I saw this, I can make tarte tatins!!
Perhaps it would be good to have a bit of background on tarte tatin before we begin looking at the recipe? Tarte tatin was accidentally created in Hotel Tatin in France by one of the owners, Stephanie Tatin. Stephanie did most of the cooking and wanted to make a traditional apple pie but left the apples cooking in the butter and sugar for too long. Upon smelling that something is burning, she tried to 'rescue' the dish by putting the pastry base on top of the apples and then quickly put the whole pan in the oven. Thereafter, this tarte became the signature dish of Tatin Hotel.
Ingredients:
55g caster sugar
1 1/2 tbsp water
1 vanilla bean, split and beans scraped
butter, for greasing
500g strawberries, hulled
2 sheets, ready to roll puff pastry, thawed
whipped cream to serve
Method:
Preheat oven to 200°C.

Place the butter, sugar, water and vanilla in a non-stick frying pan over medium heat and stir until the sugar has dissolved. Bring to the boil and cook for 5 minutes, remove from the heat and discard the vanilla bean.

Lightly grease 4 x 8cm round pie dishes with the butter.

Place the strawberries in the dishes and pour over the caramel.

Place the pastry on a lightly floured surface and roll out to 5mm thick.

Cut 8 x 9cm rounds from the pastry and place on top of the strawberries.

Repeat with the remaining pastry.

Place the dishes on a baking tray and bake the tarts for 25 minutes or until the pastry is puffed and golden. Turn the tarts out onto plates and top with whipped cream to serve.

As you can see, the strawberry tarte tatin was really crispy on top but the strawberry produced a fair bit of liquid and it was probably best to eat the tarte tatin without overturning it. Nevertheless, this is definitely great for strawberry lovers. And I'm happy to be able to roll out my puff pastry without much difficulty. Kudos for that! I'm going to try to make more things with puff pastry in future. Keep a look out for them!
I'm submitting this post to I Heart Cooking Clubs for our May Mystery Box Madness with the use of vanilla, strawberries and puff pastry this week.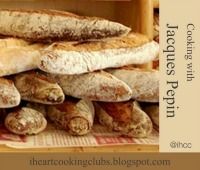 I'm also submitting this post to Cook-Your-Books#23 organized by Joyce of kitchenflavours.