Did you blinked your eyes yet? Once or twice? I think I blinked it too many times that January just whisked by so quickly. Yes, February is here already!! And it's almost Chinese New Year. Let me not digress from the topic though.
Little Thumbs Up is a cooking / baking family oriented event hosted by Zoe of Bake for Happy Kids and Doreen of my little favourite DIY. I'm the host of this month's event and the ingredient I've chose to cook / bake with is "Cocoa".

The cocoa bean or otherwise, known as the cacao bean, is the dried and fully fermented fatty seed of the cocoa tree. It is the basis of how chocolate is made.

Each year, more than 3 million tonnes of cocoa are produced and each year, the production of cocoa increases by 2.9%. That is definitely a lot of cocoa isn't it? And the highest producers of cocoa are from Ivory Coast (a country in West Africa), Ghana and even, Indonesia. And of course, it's not surprising to know that cocoa trees grow in hot, tropical countries.

Over the dozens of years, cocoa and its confection (chocolate) possess disease-fighting properties. Cocoa has demonstrated significant benefits for the cardiovascular system, helping to reduce heart attack and stroke, reducing the risks of high blood pressure and even reduce the risk of cancer. Cocoa consumption has also been associated with reduced cognitive decline in old age. However, the sweet irony of cocoa is that many self-acclaimed health experts determined it to be detrimental to health but has proved over time that cocoa is extremely beneficial for health.

However, do you know that cocoa is considered a great superfood? Cocoa has a whole load of health benefits that many people do not know about. Cocoa is found to have antioxidant compounds which not only protect our body cells from premature destruction but also reduce the risk of killer diseases. It is also found that a strong cocoa beverage helps to thin the blood and slow coagulation. This would mean that cocoa performs the same beneficial anti-blood clotting activity as aspirin. Also, small amounts of cocoa consumption can reduce cholesterol in the blood, lower blood pressure and improve overall function of vein and arteries. Lastly, this benefit of cocoa is already known to many - cocoa contains anti-depressant, mood-elevating properties as well as increases brain levels of serotonin (the so-called feel-good brain chemical).

With so many benefits of cocoa, how can you miss out on this LTU event?

This event will start on 3 February 2015, Tuesday. So please join us, simply cook/bake any recipe with the theme of the month, Cocoa and link with us at this post.

However, do note the following:
All cocoa dish submission must be a current post, from 1 February 2015 until the end of February 2015.

Please mention "Little Thumbs Up" in your post and link back to Zoe of Bake for Happy Kids and Doreen of my little favourite DIY and Grace of Life can be Simple.
Include in your post, the Little Thumbs Up badge or you can get it from here.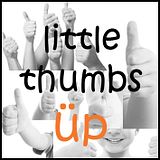 An InLinkz Link-up
Button to external page:
If you are keen to find out what submissions others have done for January 2015 Little Thumbs Up on pasta / noodle dishes, please click
here
.