You must be wondering where did all of October went? Yes, wakey wakey, it's already November!! We are only a month shy of December ho ho ho!!!
I'm delighted to host this monthly event by Small Small Baker. Each month, for this aspiring bakers' event, we either cook or bake according to the theme. And this month's theme is Korean - Feast of Hansik!
Hansik which means Korean food, often features a wide variety of fermented foods, assorted vegetables and rice. It is very nutritious and is widely accepted to have numerous health benefits.
Korea was once a mainly agricultural nation where boiled rice has become Korean's staple food. This staple food and side dishes are distinctly seen on a Korean table setting. Traditionally, a Korean meal would consist of a bowl of rice and side dishes. With a wide range of ingredients like meat, fish, seafood and vegetables, Koreans are able to develop diverse kinds of cuisines with unique seasonings and different methods of cooking.
Categories of food
Boiled rice (Korean's staple diet)
Bap
, otherwise known as boiled rice is the staple of Korean cuisine. A famous rice dish is bibimbap which is boiled rice mixed with seasoned vegetables and meat.
Juk or porridge, is grains boiled over time with a lot of water.

Other variations of bap would also include but not limited to naengmyeon (buckwheat noodles in a cold broth), kimchi bokkeumbap (kimchi fried rice) and ramyeon (spicy variation of instant noodles).
Guk (soup), Tang (thick soup), Jijae (stew)
A Korean table is never short of guk, tang and jijae which is accompanied with bowls of rice. In it, there is a variety of ingredients like beef, seafood and vegetables with seasonings like soy bean paste, bean paste, seafood fermented in salt.
Namul or otherwise known as vegetables, is one of the most basic side dishes in the Korean diet. There are various ways to cook namul where one of the ways is to parboil leafy vegetables and season with salt, soy sauce, sesame seeds, sesame oil and garlic.
Gui is generally referred to as grilled dishes in Korean cuisine. Although meat and fish is often seen as the main ingredient, grilled vegetables are also considered as gui. I believe many of you would have eaten dak galbi which is a popular Korean dish that consists of stir-fried marinated chicken with gochujang (chilli pepper paste), sliced cabbage, scallions, onions and rice cake on a hot plate. This is a local specialty in Chuncheon of Gangwon Province which is where gak dalbi originates from.
The well-known pickled food of Korea that comes to mind would definitely be kimchi! This fermented dish is also the most basic side dish in the Korean diet.
Hoe (raw fish or meat), ssam (vegetable leaf wraps), muks (jelly)
It is assumed that the tradition of eating hoe (raw fish or meat) has been passed down from China to Korea. Hoe is served with dipping sauces like gochujang (chilli pepper paste) with vinegar and sugar, soy sauce with vinegar and sugar, mustard and salt with sesame oil.
Ssam (vegetable leaf wraps) is a common dish in Korean cuisine where leafy vegetables are used to wrap a piece of meat or other filling.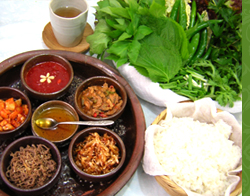 Tteok (traditional rice cake) and Hangwa (traditional sweets and cookies)
Tteok and hangwa are often prepared by the Koreans for festive occasions and special occasions.
Tteok refers to all kinds of sweetened rice cakes which are either filled with sweetened mung bean paste, red bean paste, etc.
Hangwa is generally referred to as Korean confectionery. Its ingredients consists of mainly grain flour, honey, sugar, yeot or fruits.
For the Feast of Hansik, you can look to the following blogs/websites for ideas/inspiration:
Before you begin, do be mindful of the following rules:
your dish should be as authentically Korean as possible.

This means the usage of Korean flavours and ingredients like gochujang (chilli pepper paste), ramyeon, doenjang (soybean paste) and dangmyeon (starch noodles for japchae). In other words, no substitution of tanghoon for dangmyeon, sambal chilli for gochujang, etc.

However, there is also a possibility that some ingredients may not be available in your local stores or supermarkets. There are exceptions for substitutes like for example, if you are unable to find Korean radishes, you may use daikon radishes as substitutes. Or even when you can't find mandu skins which is otherwise known as dumpling wrappers, you may use wanton skins.
Do feel free to email me or leave a comment if you have questions :)
Who can join?
Everyone! (if you do not have a blog, just send me a photo and recipe of your dish)
How to join?
Step 1:
Cook or bake or make any Korean dish which includes drinks, snacks and bakes in the month of November 2013.
Step 2:
Post it on your blog between 1 November 2013 and 30 November 2013.
Your post must include the recipe or link to the original recipe. If you are using a recipe from a book, please include the title of the book too.
Any entries that are posted outside the date range will not be accepted.
Any entries that do not include a recipe or link to the original recipe will not be accepted too.
Step 3:
Please mention that you are submitting your post to
Aspiring Bakers #37: Korean - Feast of Hansik (November 2013)
hosted by
Grace of Life can be simple
and provide a link back to this post
HERE
.
Entries will not be accepted if the above is not included.
Step 4:
Email to gracelourdes@gmail.com in the following format:
Your name or nickname:
Your blog name: (omit this if you do not have a blog)
Name of your bake/dish:
URL of your post:
URL of your photo (one photo for each entry):
(alternatively, you can attach your photo in your email, preferably less than 500kb).
Please use "Aspiring Bakers #37" as your email subject. You may submit more than 1 entry for this monthly event.
The roundup will be posted on 1 December 2013.