I rarely cook breakfast but it's not for the mere reason that I don't eat breakfast. I believe in eating like a king for breakfast but I never seem to be able to wake up sufficiently early for that on weekend mornings. So each time, we will go out to eat.
Today is going to be different. I decided to make scrambled eggs similar like the other one I've made before but somewhat different.. Did you scoff at me for doing that? Haha!! Apparently, in the world of scrambled eggs, it has to be soft and fluffy and that is definitely how I love mine. This also means that if you make me some scrambled eggs, I'll probably give you a big grin in the morning for sure. But of course, I do love eggs benedict as well. Ok, that is going to be another post someday.
For now, let's focus on this simple but yet not so simple dish from Jacques Pepin. This recipe is from Cooking at Home by Julia Child and Jacques Pepin. I already like the title of this book, don't you too? In this book, both of them have cooked their version of scrambled eggs. Today I shall attempt Jacques' version of it. Next I will try Julia's version.
Ingredients:
2-3 large eggs
salt to taste
freshly ground pepper to taste
1 tbsp or more unsalted butter
1-2 tbsp heavy cream
Method:
Crack the eggs into a bowl, add salt and pepper to taste and beat thoroughly with a whisk.

Place a 2-3 quart heavy saucepan with a tbsp of butter over medium heat, swirling to cover the bottom and sides.

When the butter foams, pour all the eggs into the hot saucepan and immediately stirring with the whisk, clearing the thickening eggs from the sides and the bottom of the pan to break up any lumps.

Be sure to run the whisk around the bottom corners to dislodge any egg that may stick there.

Cook for a minute or more, steadily whisking, until the eggs are uniformly thickened but still very soft, with very small and creamy curds.

Remove the pan from the heat, whisk in another spoon of butter and 1 to 2 tbsp heavy cream and quickly spoon the eggs into a soft mound on a warm plate.

Serve immediately with garnish of your own choice.
Check out my delish all-day breakfast!! I love the small and pretty curds made from Pepin's recipe. Yes, you can have so many other side dishes to go with your scrambled eggs too. The world's your oyster so be creative.
As Pepin mentions that the purpose of scrambling eggs in a saucepan is to produce the smallest curds possible and you must cook them quickly before they are toughened by the heat.

Remember to use a saucepan with high sides and a small bottom surface just so you can whisk the curds, break them up and move them off the bottom. This will produce very soft and loose eggs when you take them off the heat.

You must whisk your eggs instead of beating them with a fork.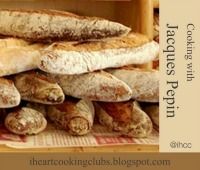 I'm also submitting this post to Cook-Your-Books#23 organized by Joyce of kitchenflavours.